Diplome für die meine QSL zählt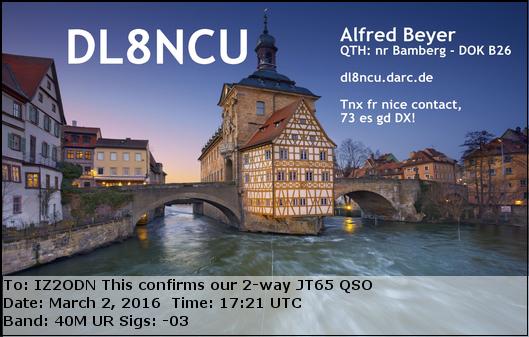 AGCW-Awards (AGCW 1773)


EPC-Awards (EPC 8349)


Familia-Award
(Sebastian DK2ET ex DO2NSB +
Sonja DK1SON + Annika DN4ANI)



Red-Ink-Award (RIA 1251)


Conveniat-Award
Pater-Landell-de-Moura-Award
Blaulicht-Diplom (FiH 811FX)
Diplom DL Flora & Fauna
(DLFF-117 Naturpark Steigerwald)
Ehrenbürg-Diplom des OV B26
After our QSO I look at www.qrz.com and if you are member of a QSL-bureau, I send my QSL immediately to you. I think, the most reliable confirmation of a QSO is a paper-QSL.
In addition, I confirm all QSOs via eQSL quickly; qrz.com, LotW and Clublog casually.
SWL-reports are welcome and will be answered via eQSL or paper-QSL - like you wish and tell me.
Each eQSL is valuable for eAwards and DARC-Awards, but without "Authenticity Guaranteed" status it's worthless. There are 3 different ways to obtain AG-status. Look at the "Authenticity Guaranteed" page to see how easy it is!
73, Alfred